Winners of the inaugural Health Equity Innovation Challenge are halfway through their accelerator and recently spent the day in Concord, NC at the Cabarrus Center for Innovation and Entrepreneurship participating in a rapid-fire pitch round robin.
The Challenge, sponsored by Atrium Health and administered by the Flywheel Foundation, is a business idea competition for scalable and investable solutions to problems that lead to or create significant healthcare outcome disparities.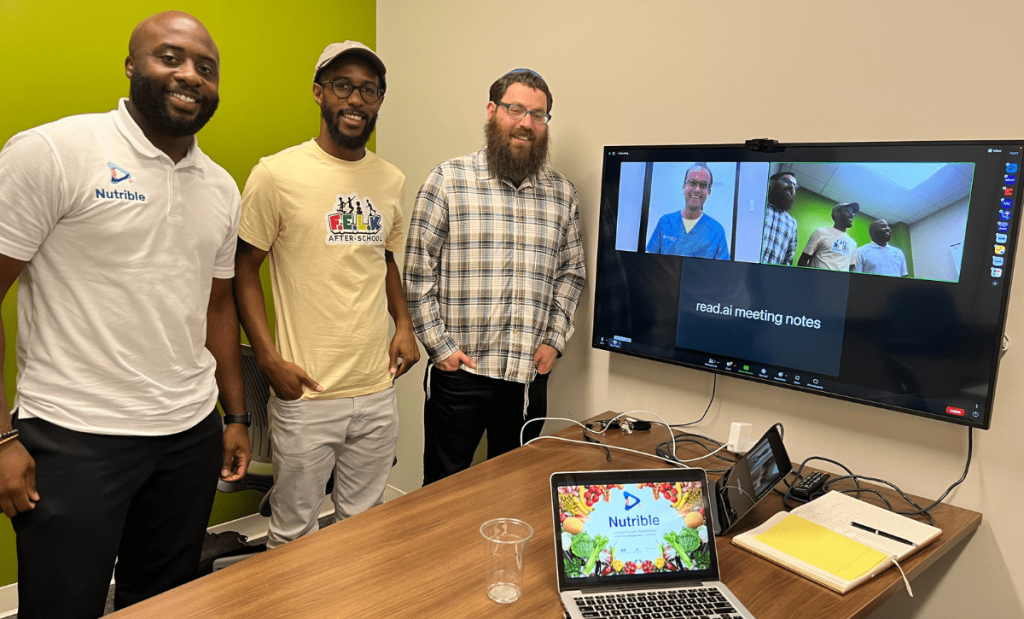 Flywheel Foundation board member, Peter Marsh, invited healthcare investors and investment mentors to participate as 4 of the 5 companies practiced their pitches and received feedback on both concept and presentation content. This is a process the founders will repeat several times, pitching to different groups of investors and receiving feedback, one of the biggest opportunities for these HEIC winners.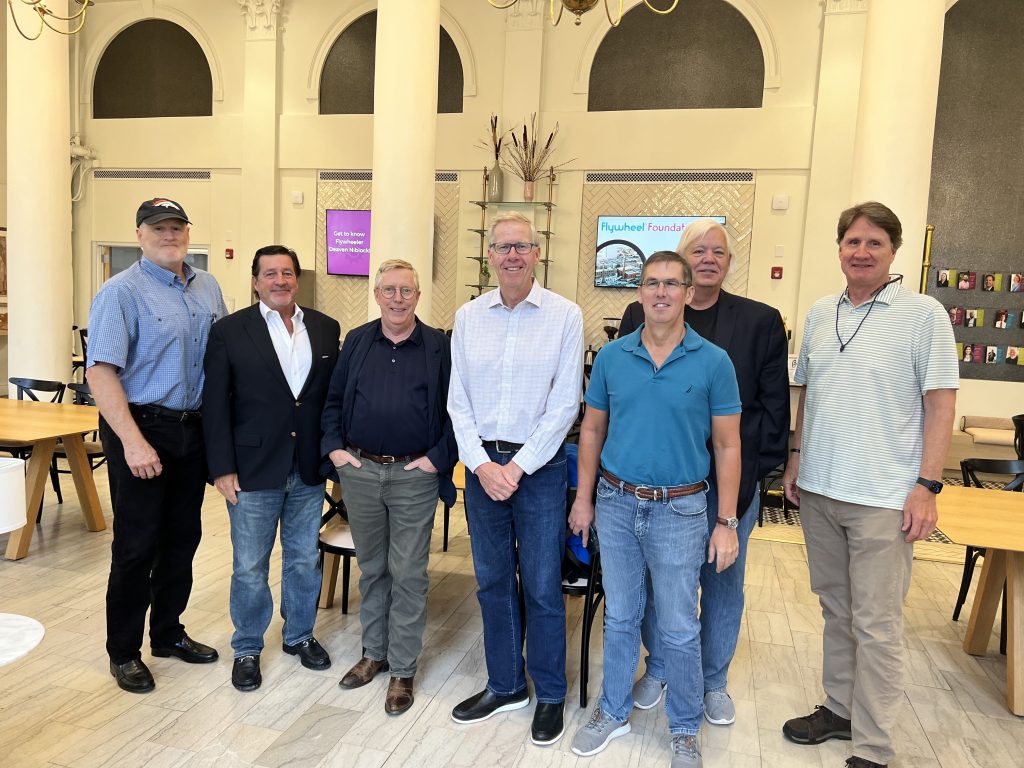 Each founder set up in one of the meeting spaces at the Cabarrus Center and shared their pitch presentations as investors rotated between rooms. The companies outlined their concept as well as their growth plans and their funding needs.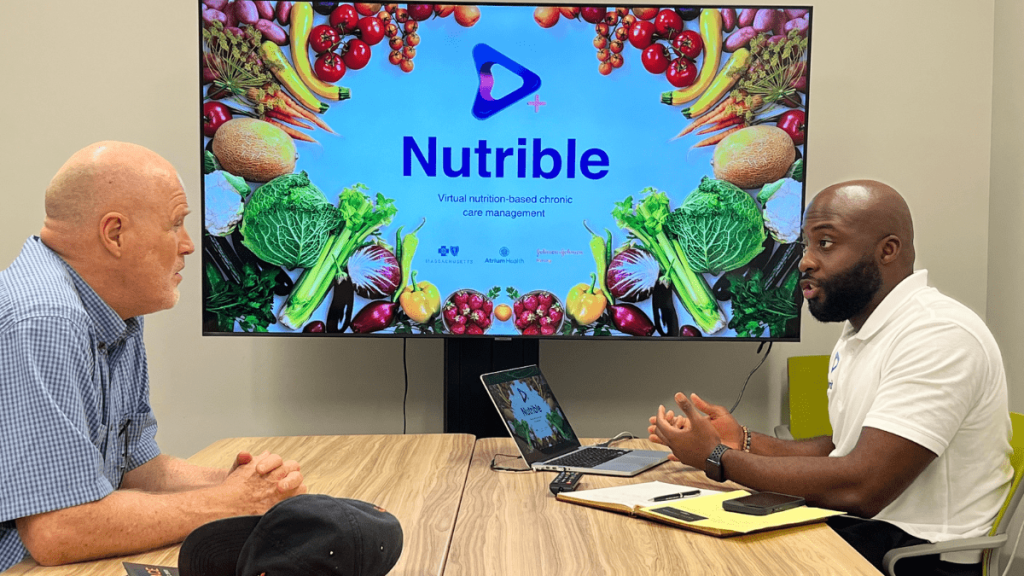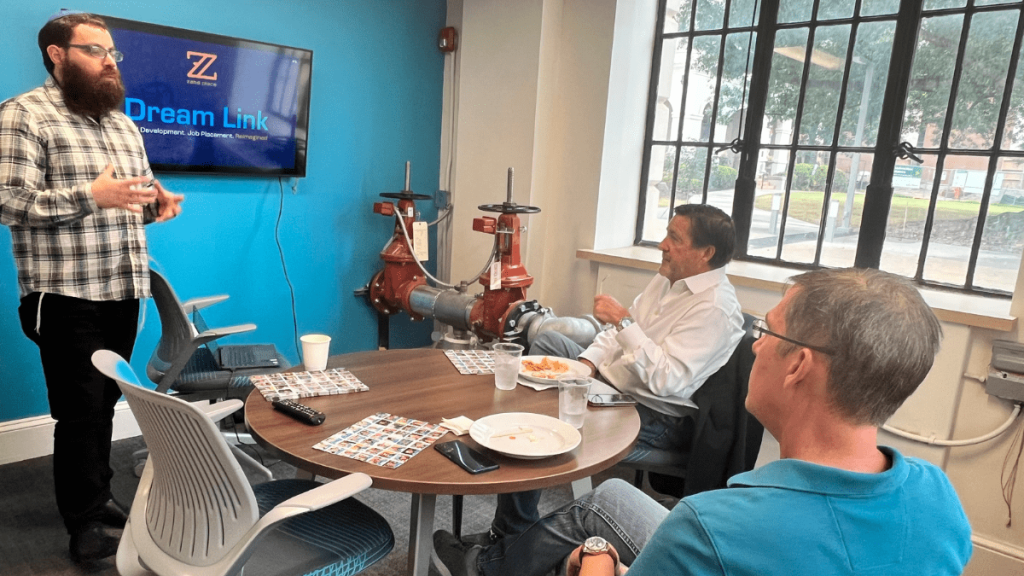 Steve Lineberger was one of the visiting investors. He is actively involved in the Nordic AMPLlify program, a digital health competition within the Nordic countries that selects 10-12 companies who want to expand into the U.S. market.
Instead of going to Boston, known as a hotspot for international founders locating in the U.S., through Nordic AMPlify, companies incubate in Winston-Salem, known for its entrepreneurial ecosystem. That roadmap is expanding to Cabarrus County with the growth of the Cabarrus Center in Downtown Concord and through opportunities like the Health Equity Innovation Challenge.
The Health Equity Innovation Challenge received over 110 applications in its inaugural year. Founders from all of the semi-finalists participated in Pitch Day and the five winning companies selected most broadly addressed the Challenge priorities with solutions that were clearly defined and well-articulated.
The investors were impressed with what they saw from the startups and offered advice on how they could make sure they share what sets them apart and that they get to their points quickly. The founders benefitted from having to think quickly on their feet, going from one presentation to the next and felt they improved with each round.
Peter Marsh is excited about the progress he has seen from these founders already and the growth they are experiencing because of their participation in the challenge accelerator. He sees these founders creating a footprint through their social and technological innovations that address the priorities outlined in the challenge: access, quality and outcomes, acute social needs, and drivers of health.
Meet the Companies
CareYaya is a health technology and homecare company that connects healthcare university students with families to provide affordable and quality on-demand care. Their mission is to offer affordable in-home care to elderly loved ones and children with disabilities. With rates starting at $15/hour, the CareYaya option is substantially lower than traditional homecare which starts at $30/hour and often requires a large time commitment, making it a substantial barrier for families. CareYaya is based in Raleigh, NC and is quickly growing throughout the Southeast.
CliniSpan Health addresses healthcare disparities by leveraging its advanced technology to ensure clinical trials are inclusive with underserved populations. By centralizing and standardizing patient data, the platform enables healthcare providers to make more informed decisions, reducing bias and ensuring equitable care delivery across diverse patient populations. Additionally, Clinispan Health's tools facilitate remote and telehealth services, expanding access to quality care for underserved communities. CliniSpan Health is based in Charlotte, NC.
F.E.L.K. Afterschool is an innovative program providing underprivileged youth with comprehensive afterschool support. Beyond typical afterschool programs, F.E.L.K. focuses on providing not only academic support but also access to mentorship, health and wellness activities, and educational resources. This holistic approach recognizes that factors beyond education, such as mentorship and wellness, play a crucial role in achieving improved long-term health outcomes for marginalized communities. F.E.L.K. Afterschool is based in Salisbury, NC, but has plans to franchise.
Nutrible is a user-friendly platform allowing medical practitioners and community organizations to seamlessly deliver medically-tailored meals and groceries from 70,000+ stores and restaurants directly to patients at home. Users input their dietary choices and health information, which Nutrible's AI analyzes to assess their nutritional intake. Through comprehensive assessment of individual dietary habits and health data, Nutrible empowers users with tailored nutritional guidance and connects them to community resources, bridging healthcare disparities and fostering healthier outcomes. Nutrible began in St. Louis, MO, but has recently relocated to the Charlotte region.
Zabs Place is a transformative non-profit organization offering skill development through their thrift store operation and creating inclusive career opportunities for adults with disabilities. They collaborate with local businesses and organizations to create job placements for adults with special talents, identifying suitable roles based on the individuals' skills, interests, and capabilities. Participant's skill development and goal setting is tracked in the Dreamlink software platform that Zabbs Place is building during the accelerator, providing a visual and digital resume appropriate for special talents candidates. Zabs Place works to educate employers about the value of an inclusive workforce and provides ongoing support, training, and accommodations to ensure a successful integration of their special talents participants into the workplace. Zabs Place is based in Matthews, NC.
Visit the Health Equity Innovation Challenge website for more information about this exciting program and watch for information about the 2024 challenge.